by Jennifer Harman, Editor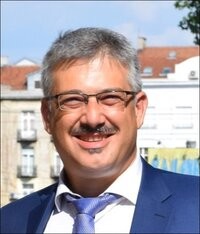 JH: Tell us a bit about yourself and your current focus of research.
DK: My name is Djuro Kosanovic, and I am an Associate Professor within the Department of Pulmonology at Sechenov First Moscow State Medical University, Russia. During the last couple of years, my main research interest has been the pathophysiology of high altitude illnesses. In particular, I have focused on the effects of other environmental factors of elevated altitudes on pulmonary circulation in addition to hypoxia, such as prolonged cold exposure. In addition, since the coronavirus outbreak in 2019, my colleagues and I have published some results regarding potential therapeutic options and strategies against COVID-19 associated acute respiratory distress syndrome, including the inhaled iloprost, inhaled surfactant and recombinant tissue plasminogen activator.
JH: What do you think is the most fascinating recent development in pulmonary medicine?
DK: Pulmonary medicine has advanced tremendously in the last few decades, both with regards to basic biomedical research and the discovery of novel therapies. However, I believe that the most fascinating developments are in front of us.
JH: Is there an area of pulmonary medicine that you think is currently under-explored?
DK: I think that research focusing on the effects of environmental factors on the pulmonary system, such as high altitude hypoxia, cold or altered gravity, is currently under-explored. Yet, this kind of research may be of great importance since we live in times of global environmental change.
JH: Where do you see (or where would you like to see) the pulmonary medicine field in 10 years from now?
DK: If nothing else, the recent SARS-CoV-2 pandemic outbreak will lead to advances in the field of pulmonary medicine.
JH: What does it mean to you to be an Editorial Board Member for BMC Pulmonary Medicine?
DK: It is a great privilege and opportunity to be a part of the Editorial Board for BMC Pulmonary Medicine. Our journal receives a great number of submissions containing interesting and novel data. As an Editor, you are at the "source" of new ideas and developments. Therefore, you can learn a lot and enhance your knowledge. Importantly, you have the opportunity (and responsibility) to assess new data and concepts created by your colleagues and, via the review process (and revision), help them improve their studies and successfully publish their work.
JH: What is one piece of advice you would give to reviewers as an EBM handling manuscripts?
DK: I would advise the reviewers to try to think "outside the box". Please remember that the ultimate aim is to help publish the manuscript, so try to provide constructive criticism and find a way to help authors improve their work.
JH: What is one piece of advice you would give to the authors of submitted manuscripts?
DK: I would advise authors to thoroughly read the regulations and instructions for any journal before submitting a manuscript. The proper and accurate preparation of a manuscript can save an enormous amount of time for all parties involved in the process.
JH: What would you change in scientific publishing if you could?
DK: I would like to change many aspects of peer-review scientific publishing. For example, my opinion is that all published articles should be freely accessible to everyone. Ideally, all journals should follow the open-access approach. In addition, I think that the process should be more transparent. For example (and some journals actually do it), I believe that at the end of the publishing process, all reviewers engaged in the assessment of the manuscript should be identified to the authors.