Editor Profiles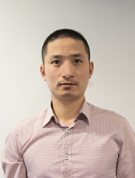 Guangde has been the Editor of BMC Pulmonary Medicine since 2020 and is based in the Shanghai office. Before joining BMC, Guangde received his BSc in theoretical physics from Nanjing University, China and his PhD in quantum chemistry from the Royal Institute of Technology, Sweden. After graduation, he returned to China as an assistant researcher investigating the growth of composite membranes for water processing, before moving on to study the growth of solid tumors using computer simulation. His interest then turned to medical science and he worked as medical editor for a number of years before joining BMC as an editor of the BMC series.
Maire joined BMC in 2019 and is the Assistant Editor for BMC Pulmonary Medicine since September 2019.
COPD and Occupational Lung Disease
Dr. Hersh is a physician-scientist in the Channing Division of Network Medicine and Division of Pulmonary and Critical Care Medicine at Brigham and Women's Hospital (BWH) and an Associate Professor of Medicine at Harvard Medical School (HMS). He completed medical school, internship and residency in Internal Medicine at the University of Pennsylvania. This was followed by a clinical fellowship in Pulmonary and Critical Care Medicine at HMS and a research fellowship in respiratory epidemiology and genetics at BWH. His research integrates the tools of genetics, genomics and epidemiology to improve precision in the diagnosis and treatment of chronic obstructive pulmonary disease (COPD). He is a co-investigator in the multi-center COPDGene Study, and he is the Principal Investigator of several genomics ancillary studies. He started as an Associate Editor for BMC Pulmonary Medicine in 2013 and became Section Editor for COPD and Occupational Lung Disease in 2016.
Cancer
Dr. Montserrat Sánchez-Céspedes is a researcher and group leader of the Genes and Cancer Group at the Bellvitge Biomedical Research Institute (IDIBELL) at the Cancer Epigenetics and Biology Program (PEBC), Barcelona, Spain. She received her Ph.D. in Biology at the University of Barcelona where she studied lung cancer genetics, after which she was a postdoctoral fellow at John Hopkins University School of Medicine. Dr. Sánchez-Céspedes' research involves the identification and functional analysis of genes that are altered in lung cancer with the ultimate purpose of improving the overall survival of the patients. She became a Section Editor for the Cancer section of BMC Pulmonary Medicine in 2013.

Infectious, Rare and Idiopathic Pulmonary Diseases

Dr. Giovanni Sotgiu is a professor of Medical Statistics and Clinical Epidemiology at the University of Sassari, Italy. He received his medical degree specializing in Infectious Diseases and Medical Statistics. His doctoral research was on "Methodology of Clinical Trials". He also received his Executive Masters in Management of Health and Social Care Organizations. He is currently a Fellow of European Respiratory Society. The focus of his research is on patient care, primary and secondary prevention, and population health. In particular, his research interests include the clinical and public health features of every respiratory infectious disease (e.g., tuberculosis). He collaborates with the WHO, ECDC, US-CDC, and other international societies. He joined the Editorial Board of BMC Pulmonary Medicine in 2013 and is now the Section Editor of Infectious, Rare and Idiopathic Pulmonary Diseases.