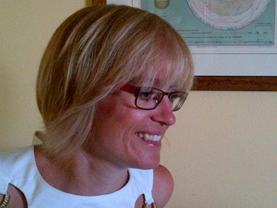 JH: Tell us a bit about yourself and your current focus of research.
GMS: My name is Dr Giulia Maria Stella, I graduated in Medicine and Surgery in 2001. I obtained my MD European Qualification in 2002 and specialized in Respiratory System Diseases. I completed my PhD in Pharmacological Sciences (University of Pavia Medical School) and then my master's degree in Molecular Oncology (University of Turin Medical School) in 2011. I am now working as a Clinical Research Assistant within the Pulmunology/Thoracic Oncology Unit at Fondazione IRCCS Policlinico San Matteo, Pavia. I also work as an Assistant Professor for Respiratory Medicine at the University of Pavia. I have expertise in numerous laboratory techniques, including DNA cloning, sequencing, PCR, mammalian cell culture, transient and stable transfection, single-cell dilution, use of inducible promoters, virus production and cellular transduction, western immunoblotting and protein kinase assays. In addition, I also have clinical expertise in invasive procedures (bronchoscopy, thoracoscopy, lymph node biopsy, thoracentesis and paracentesis) and lung cancer management.
JH: What do you think is the most fascinating recent development in pulmonary medicine?
GMS: In my opinion, the most fascinating aspect is the application of advanced cell therapies in lung diseases that were historically seen as orphan diseases. Another recent development that I find particularly interesting relating to my scientific expertise is the discovery of novel actionable targets in lung cancers and mesothelioma.
JH: Is there an area of pulmonary medicine that you think is currently under-explored?
GMS: In think that the study of the lung as a site of metastatic growth from different/distant primary sites of origin is currently under-explored.
JH: Where do you see (or where would you like to see) the pulmonary medicine field in 10 years from now?
GMS: With advances in our knowledge of genetics, I see the field heading towards a personalized approach to pulmonary medicine in which medical decisions are tailored to the individual patient.
JH: What does it mean to you to be an Editorial Board Member for BMC Pulmonary Medicine?
GMS: Being an Editorial Board Member for BMC Pulmonary Medicine helps me develop my scientific knowledge and provides a good network opportunity to share ideas.
JH: What is one piece of advice you would give to reviewers as an EBM handling manuscripts?
GMS: I would recommend for reviewers to be pragmatic and give detailed but constructive feedback.
JH: What is one piece of advice you would give to the authors of submitted manuscripts?
GMS: I advise that authors take care that the rationale underlying their study clear to the reader, the study design addresses their objectives and that the methodology is written in sufficient detail to ensure the research can be reproduced.
JH: What would you change in scientific publishing if you could?
GMS: I believe that improvements to the visual communication of manuscripts (e.g. via video and graphical abstracts) would make research more accessible to a wider audience and encourage collaboration between different fields.