Research article
Open Access
Open Peer Review
This article has Open Peer Review reports available.
Evaluation of the effectiveness of manual chest physiotherapy techniques on quality of life at six months post exacerbation of COPD (MATREX): a randomised controlled equivalence trial
BMC Pulmonary Medicine
2012
12:33
Received: 20 September 2011
Accepted: 15 April 2012
Published: 2 July 2012
Abstract
Background
Manual chest physiotherapy (MCP) techniques involving chest percussion, vibration, and shaking have long been used in the treatment of respiratory conditions. However, methodological limitations in existing research have led to a state of clinical equipoise with respect to this treatment. Thus, for patients hospitalised with an exacerbation of Chronic Obstructive Pulmonary Disease (COPD), clinical preference tends to dictate whether MCP is given to assist with sputum clearance. We standardised the delivery of MCP and assessed its effectiveness on disease-specific quality of life.
Methods
In this randomised, controlled trial powered for equivalence, 526 patients hospitalised with acute COPD exacerbation were enrolled from four centres in the UK. Patients were allocated to receive MCP plus advice on airway clearance or advice on chest clearance alone. The primary outcome was a COPD specific quality of life measure, the Saint Georges Respiratory Questionnaire (SGRQ) at six months post randomisation. Analyses were by intention to treat (ITT). This study was registered, ISRCTN13825248.
Results
All patients were included in the analyses, of which 372 (71%) provided evaluable data for the primary outcome. An effect size of 0·3 standard deviations in SGRQ score was specified as the threshold for superiority. The ITT analyses showed no significant difference in SGRQ for patients who did, or did not receive MCP (95% CI −0·14 to 0·19).
Conclusions
These data do not lend support to the routine use of MCP in the management of acute exacerbation of COPD. However, this does not mean that MCP is of no therapeutic value to COPD patients in specific circumstances.
Keywords
Chronic Obstructive Pulmonary DiseaseOxygen SaturationChronic Obstructive Pulmonary Disease PatientMinimum Clinically Important DifferenceChronic Obstructive Pulmonary Disease Exacerbation
Background
Chronic obstructive pulmonary disease (COPD) is characterised by exacerbations some of which result in increased cough and excessive sputum production caused by mucus hyper-secretion and ciliary dysfunction. Manual chest physiotherapy (MCP) involves external manipulation of the thorax using percussion and vibration techniques. Their purpose of these is to intermittently to apply kinetic energy to the chest wall to dislodge bronchial secretions. The patient then clears these secretions with an expiratory manoeuvre such as the forced expiration technique (FET). The assumption underlying the use of MCP is that removing sputum from the airway improves ventilation perfusion ratios and thus lung function. However, reviews of clinical trials report that although airway clearance techniques may improve sputum expectoration, there is no high quality evidence of either short or long term value [1–4].
Methodological limitations inherent in existing studies include; heterogeneous populations, small samples, unstandardised interventions, and confining evaluations to short term outcomes. Thus, there is clinical equipoise about whether MCP confers any benefit to patients with COPD. Consequently, the latest UK guidelines on the management of COPD call for further research on the effectiveness of such physiotherapy techniques [5]. This randomised trial, funded by National Institute of Health Research Health Technology Assessment, addresses the limitations of previous research by standardising the delivery of MCP and obtaining a sample size sufficient size to detect long term clinical effectiveness or equivalence for a patient-orientated, long term outcome.
The full report [6] is available as http://www.hta.ac.uk/1416. This paper summarises the efficacy of MCP administered to patients hospitalised with COPD exacerbation on disease-specific quality of life (QOL) at six months post intervention.
Results
Figure
1
shows the trial profile. The majority of respiratory admissions screened at participating sites were either for patients who did not have COPD, or the reason for their admission was not a COPD exacerbation (85%). The remaining exclusions were due to clinical contra-indications for MCP (8%) or inability to give informed consent (7%). 748 patients were approached to participate in the study, 526 of whom gave their consent (71%). Nine participants did not receive the intervention to which they had been allocated. Four patients randomised to the control arm received MCP for clinical reasons, four patients allocated to receive MCP declined treatment, and one was discharged before the physiotherapist had time to treat them. There were five post randomisation exclusions due to retrospective changes in diagnosis (3), emergent contra-indication to MCP (1), and inadvertent repeat recruitment during subsequent hospitalisation (1). Other losses to follow up comprised death during the six month follow up (70), patient-initiated withdrawal (14), and non-response to questionnaires at six months post-randomisation (66). This equates to a retention figure of 71% for the primary outcome measure at the study end point (372), with similar retention rates for the two arms. Patients' baseline characteristics were well balanced between treatment groups (Table
1
).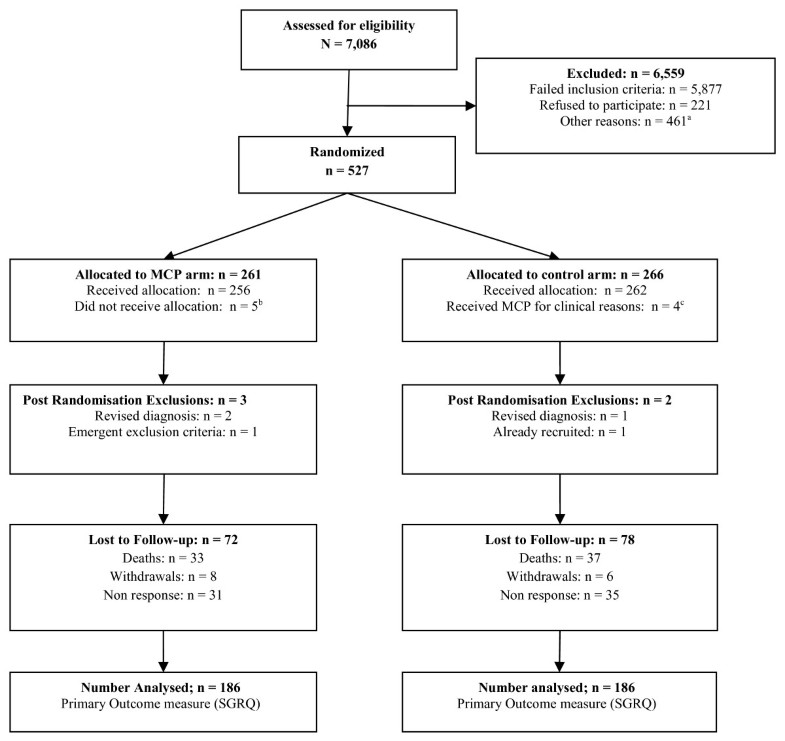 Table 1
Baseline characteristic of patients enrolled into the MATREX trial
MCP arm

No MCP arm

(n = 258)

(n = 264)

N

Mean

SD

N

Mean

SD

Age (years)

258

69.08

9.85

264

69.58

9.51

SGRQ symptom score

249

79.23

14.42

255

79.61

14.18

SGRQ activity score

249

84.97

15.46

258

84.10

15.87

SGRQ impact score

249

56.58

19.13

258

57.57

18.85

SGRQ – Total score

249

68.94

14.66

255

69.13

14.76

BCSS score

249

6.23

2.11

256

6.44

2.18

Oxygen Saturation (%)

254

92.33

3.67

252

92.77

5.03

Sputum (mls)

240

8.17

11.09

255

7.89

9.63

EQ-VAS

196

44.95

21.03

202

46.64

21.42

EQ-5D Score

199

0.45

0.32

202

0.43

0.36

n/N

%

n/N

%

Female

115/258

44.57

109/264

41.29

Current smoker

43/221

19.46

49/224

21.88

Ex smoker

175/221

79.19

172/224

76.79

Never smoked

3/221

1.36

3/224

1.34

Sputum >15 mls

38/240

15.83

42/255

16.47

JPH

62/258

24.03

65/264

24.62

NNUH

77/258

29.84

79/264

29.92

QEH

37/258

14.34

36/264

13.64

UHA

82/258

31.78

84/264

31.82

MRC score

1

0/250

0.00

1/255

0.39

2

11/250

4.40

14/255

5.49

3

27/250

10.80

27/255

10.59

4

68/250

27.20

75/255

29.41

5

144/250

57.60

138/255

54.12
MCP treatment
Over the three year study period, 257 participants received 658 sessions of MCP (Table
2
). The numbers of MCP sessions administered to patients ranged between 1 and 25, with the majority receiving 2 or 3 sessions between randomisation and the end of the six month follow up. In the majority of sessions (61%) the physiotherapist selected two different positions in which to place the patient. Whilst the length of time spent performing MCP varied considerably (1–41 minutes), half of all sessions lasted between 11 and 19 minutes. With respect to oxygen saturation, 41% of MCP sessions were associated with decreasing oxygen level although only 6.6% resulted in a change of 4% or more to a value less than 90%, 39% resulted in no change and 19% recorded an increase in oxygen saturation by the end of treatment. This equates to a mean oxygen saturation pretreatment of 92·0%, falling to 91·3% after MCP. Shortness of breath reported by patients and considered as an adverse event was accompanied by varying degrees of reduced oxygen saturation (−18% to 0%). Adverse events comprised increased shortness of breath (5), pain (5), arrhythmia (3), bronchospasm (1), and thoracic haematoma (1).
Table 2
Summary of MCP Treatment parameters (N = 658 sessions)
MCP treatment parameter

Min

Max

Mean/median

Breakdown of parameter: N (% total sessions)

Number of MCP sessions/patient

1

21

2.53/2

N. sessions per patient

N. patients

N. sessionsa

% Total sessions

(total = 257)

(total = 658)

1

97

97

14

2

70

140

21

3

47

141

22

4

20

80

12

5

6

30

5

6

3

18

3

7

5

35

5

8 or more

9

117

18

Number of positions/session

1

3

1.91/2

1 position: 248 sessions (38%)

2 positions: 404 sessions (61%)

3 positions: 6 sessions (1%)

Time taken per session

1

41

11.9/11

Less than 5 minutes: 14 sessions (2%)

5 − 10 minutes: 266 sessions (40%)

11 − 19 minutes: 323 sessions (49%)

20 − 25 minutes: 44 sessions (7%)

26 or more minutes: 11 sessions (2%)

O2 saturation (%) - immediately prior to MCP

74

100

92.0/93

Less than 85%: 30 (4%)

85% to 89%: 111 (17%)

90% to 94%: 413 (63%)

95% to 100%: 98 (15%)

O2 saturation (%) --lowest during MCP

69

99

91.3/92

Less than 85%: 44 (7%)

85% to 89%: 130 (20%)

90% to 94%: 385 (58%)

95% to 100%: 93 (14%)

O2 saturation (%) - change during MCP

−18

+13

−0.7/0

Drop in O2 saturation: 268 (41%)

No change in O2 saturation: 258 (39%)

Increase in O2 saturation: 126 (19%)

Deviations from MCP Treatment Protocol

N = 258

One position only: 248 (38%)

O2 saturation not recorded: 6 (<1%)

Patient declined treatment: 4 (<1%)

Alternative positions selected

N = 44

Upright: 31 (5%)

Leaning forward: 10 (2%)

Flat on back: 3 (<1%)
Effectiveness analyses
No statistically significant differences were found in SGRQ total score, either unadjusted or adjusted for baseline values and hospital site (Table
3
). In the unadjusted analysis the mean difference was −0·36 (−4·31 to 3·59) and for the adjusted analysis it was 0·51 (−2·67 to 3·69). These equate to effect sizes of −0·02 (−0·22 to 0·19) and 0·03 (−0·14 to 0·19) respectively. With respect to SGRQ sub-scores, both unadjusted and adjusted CIs are also within the predefined limits of equivalence. Adjusted subscore differences comprised; symptom (0·87, −3·50 to 5·25), activity (−0·36, −3·76 to 3·04) and impact (0·43, −3·29 to 4·14). No statistically significant differences were found (unadjusted or adjusted) in any of the secondary outcome measures (Table
4
). Adjusted differences comprised; 0·01 (−0·54 to 0·56) for BCSS, −0·01 (−0·07 to 0·06) for EQ5-D and 2·65 (−2·35 to 7·65) for EQ5-D VAS. The mean number of admissions during the six months following randomisation was 3.89 in the non MCP group and 3.47 in the MCP group. The corresponding number of nights in hospital was 15·95 for the MCP group and 16·98 for the non-MCP group. This equates to an incidence rate ratio (IRR) of 1·07 (0·91 to 1·24). No significant interactions were found in the subgroup analysis of SGRQ by sputum volume (data not shown).
Table 3
Primary Outcome measure results
MCP arm

No MCP arm

Unadjusted analysis no MCP versus MCP

Adjusted analysis ano MCP versus MCP

N

Mean

SD

N

Mean

SD

Mean difference

95% CI

p-value

Mean difference

95% CI

p-value

SGRQ -Total score

186

63.88

19.05

186

63.52

19.68

−0.36

−4.31,3.59

0.8573

0.51

−2.67,3.69

0.753

Effect size

−0.02

−0.22,0.19

0.03

−0.14,0.19

SGRQ -Symptom score

186

68.38

23.13

186

68.40

23.01

0.02

−4.68,4.73

0.9925

0.87

−3.50,5.25

0.695

Effect size

0.00

−0.20,0.21

0.04

−0.15,0.23

SGRQ -Activity score

188

82.49

18.81

187

80.91

19.74

−1.58

−5.50,2.34

0.4279

−0.36

−3.76,3.04

0.836

Effect size

−0.08

−0.29,0.12

−0.02

−0.20,0.16

SGRQ -Impact score

188

51.53

22.58

187

51.60

22.50

0.07

−4.51,4.65

0.9752

0.43

−3.29,4.14

0.822

Effect size

0.00

−0.20,0.2

0.02

−0.15,0.18
Table 4
Secondary Outcome Measures results
MCP arm

No MCP arm

Unadjusted analysis no MCP - MCP

Adjusted analysis a no MCP - MCP

N

Mean

SD

N

Mean

SD

Mean difference

95% CI

p-value

Mean difference

95% CI

p-value

BCSS

175

5.60

2.96

179

5.66

2.84

0.06

−0.55,0.66

0.8577

0.01

−0.54,0.56

0.978

Days in hospital b

258

15.95

16.49

264

16.98

18.04

1.07 c

0.91,1.24

0.4209

EQ-VAS

167

51.29

20.97

173

52.25

19.65

0.96

−3.37,5.29

0.6630

2.65

−2.35,7.65

0.297

EQ-5D Score

209

0.48

0.33

207

0.45

0.35

−0.03

−0.10,0.04

0.3720

−0.01

−0.07,0.06

0.886
Discussion
Baseline characteristics
This study found SGRQ scores at baseline between five and ten times higher than reported by previous studies in similar settings suggesting our population had a poorer quality of life [24, 25]. This perhaps reflects recent improvements in medical treatment with bronchodilators and steroids) that keep people out of hospital for longer until their condition is more severe. Anecdotal evidence suggests there has been an increasing trend for admitted patients to be very sick with end stage disease and multiple co-morbidities. However, the study death rate of 13% is consistent with others reported in the literature [24, 26].
MCP treatment protocol
The MCP treatment protocol was designed both to reflect current practice and to comply with the best available research evidence at the time. Physiotherapists' high level of adherence indicates that they found this protocol acceptable and so our aim to standardise the study intervention was achieved. With respect to the short term physiological effect of MCP, we found a mean reduction in oxygen saturation of 0·7%.
However there was a wide variation in individual responses, ranging from −18% to 15%. Whilst MCP has been linked to clinically significant falls in oxygen saturation [27] interpretation of our results is difficult because treatment did not occur in isolation. The selection of particular positions and changes to position could also have altered lung ventilation/perfusion ratios. Nonetheless, our findings do suggest that oxygen de-saturation is more common than previously reported, supporting the routine use of oxygen saturation monitoring during MCP, both to identify patients who need oxygen and assess the effect of the MCP itself. The relatively high baseline SGRQ scores found amongst our trial participants indicate a significant level of impairment and there is little robust information to guide clinicians on the risk of significant de-saturation in this patient group.
Recruitment and retention
The study successfully recruited 526 individuals in from 4 sites in just over 29 months, with the primary outcome recorded for 372 individuals. This was less than our target of 466, hence in order to ensure that we minimised our chance of a type II error we carried out a sensitivity analysis by imputing the incomplete data using multiple chain equations in STATA using all available baseline data in order to base the analyses on all 522 individuals. The results of this were in keeping with the conclusions of the presented analysis. Hence, it is unlikely that the results are due to a type II error.
The effectiveness of MCP treatment
This study found no gain in long term respiratory quality of life when MCP was included in the physiotherapy management of acute exacerbation of COPD. After adjusting for baseline, the mean difference in SGRQ score at six months was within our pre-specified limits of equivalence. This finding also excludes the minimum clinically important difference (MCID) of four points in SGRQ score [28, 29] although it should be noted that the trial was not powered to demonstrate equivalence for this measure. Differences in SGRQ sub-scores also indicate statistical equivalence. Whilst the upper limits of the 95% CI for symptom and impact sub-score did achieve the MCID these differences not statistically significant (p = 0·70 and 0·82 respectively). The choice of a quality of life measure as the primary outcome to measure effectiveness is unusual as previous literature has focused on short term physiological measures such as FEV1, oxygen saturation and sputum volumes as measures of efficacy. However short term efficacy may be of little value to the patient unless there is longer term effectiveness. In order to assess this longer term effectiveness QOL is an appropriate patient reported outcome measure. Measure related to short term efficacy such as oxygen saturation and sputum volumes were collected but none of the secondary outcome measures yielded statistically significant results. Although the incident rate ratio for the number of nights in hospital indicates that, on average, the non-MCP group spent 7% longer in hospital, this too was not significant (p = 0·42).
MCP versus ACBT
There is evidence that MCP is used less than before whilst the active cycle remains the treatment of choice. A survey of physiotherapists working in UK acute admitting hospitals [26] asked which physiotherapy treatments they employed to treat COPD exacerbations and with what frequency (n = 146). More than three quarters (77%) responded that they did treat this patient group and that ACBT was employed in the vast majority of cases (88%). A significantly smaller proportion reported using manual techniques "always or often" in conjunction with ACBT (26% vibrations, 8% percussion, 11% shaking) whereas 66% reported using MCP techniques "sometimes or rarely". In contrast A survey of Canadian therapist found that less than half used manual techniques (42%) relying more extensively on early mobilisation and exercise training [30]. The present study employed ACBT in both trial arms comparing ACBT plus or minus MCP. Thus there remains a need to evaluate the effectiveness of ACBT compared to no ACBT. The high level of adherence to the MCP treatment protocol used in this trial suggests it would be acceptable amongst the profession in usual practice. There is also a need to evaluate the mode of delivery for ACBT. Our results suggest that a short teaching session on ACBT and several sessions of ACBT performed with the support from a physiotherapist have the same effect on QOL after six months. Given recent trends of increasingly severe hospital admissions for COPD, future research regarding physiotherapy interventions with this patient population should focus on examining the effectiveness of ACBT provided in primary care settings.
Conclusions
Implications for healthcare
The National Strategy for COPD in England was developed by the Department of Health and went to consultation early in 2010. This was the first national strategy for a respiratory disease in England. One of its defined remits is to ensure that when someone is admitted to hospital, the time is used effectively to avoid recurrent hospitalisation [31]. The results of the MATREX trial do not lend support to the routine use of MCP in the management of acute exacerbation of COPD this is in line with two recent systematic reviews published since the completion of this study. The pragmatic stance adopted throughout our investigation and the inclusion of both urban and rural sites with a broad range of socioeconomic characteristics means our findings are likely to have a high degree of generalisibility. It is possible that MCP may have therapeutic value to subgroups of COPD patients in specific circumstances but this has not yet been shown.
Participating centres
We have listed each hospital with the names of the local principal investigator and lead physiotherapist who supervised the enrolling of patients and adherence to the MCP treatment protocol. The figure in brackets represents the number of patients recruited into the trial. Norfolk & Norwich Hospital, Norfolk (158) S Watkin, R Ellis; James Paget Hospital, Norfolk (130) D Ellis, R Matthews; Queen Elizabeth Hospital, Norfolk (73) A Pawlowicz, J Kerrigan; University Hospital Aintree, Liverpool (166) R Angus, V Ford.
Role of the funding source
The sponsor had no role in the analysis or in the decision to submit this paper for publication. They were involved in the original brief for the study, peer review of the protocol and final report and monitoring of the study throughout. Enrolment and data collection was undertaken by staff funded by the study grant. The corresponding author had full access to all the data in the study and had final responsibility for the decision to submit for publication.
The MATREX trial collaboration
Chief Investigator: J Cross. MATREX Trial Co-ordinating Centre: F Elender, A Blyth, H Talbot, C Minter, K Clipsham. Trial Management Group: J Cross (Chair), I Harvey, M Bachmann, L Shepstone, A Clark, G Barton, A Blyth. Trial Steering Committee: J Cross, I Harvey, M Bachmann, L Shepstone, A Clark, G Barton, A Blyth, D Price (Chair), S Watkin, R Ellis, D Ellis, R Matthews, A Pawlowicz, J Kerrigan, R Angus, V Ford, J Close, S Olive, P Browne, K Jones. Independent Data Monitoring Committee: J Pryor (London), R Lilford (Birmingham, Chair), M Roughton (London).
Declarations
Acknowledgements
The trial was funded by a research grant from the NIHR HTA (reference 03/13/06). We thank all the patients and who participated in MATREX and the physiotherapists who conducted trial procedures at collaborating sites.
Authors' Affiliations
(1)
University of East Anglia, Norwich, UK
(2)
School of Allied Health Professionals, University of East Anglia, Queens Building, Norwich, Norfolk, UK
Copyright
© Cross et al.; licensee BioMed Central Ltd. 2012
This article is published under license to BioMed Central Ltd. This is an Open Access article distributed under the terms of the Creative Commons Attribution License (http://creativecommons.org/licenses/by/2.0), which permits unrestricted use, distribution, and reproduction in any medium, provided the original work is properly cited.