Research article

Open Access

Open Peer Review
This article has Open Peer Review reports available.
Economic burden of asthma: a systematic review
BMC Pulmonary Medicine
2009
9:24
Received: 12 November 2008
Accepted: 19 May 2009
Published: 19 May 2009
Abstract
Background
Asthma is associated with enormous healthcare expenditures that include both direct and indirect costs. It is also associated with the loss of future potential earnings related to both morbidity and mortality. The objective of the study is to determine the burden of disease costs associated with asthma.
Methods
We performed a systematic search of MEDLINE, EMBASE, CINAHL, CDSR, OHE-HEED, and Web of Science Databases between 1966 and 2008.
Results
Sixty-eight studies met the inclusion criteria. Hospitalization and medications were found to be the most important cost driver of direct costs. Work and school loss accounted for the greatest percentage of indirect costs. The cost of asthma was correlated with comorbidities, age, and disease severity.
Conclusion
Despite the availability of effective preventive therapy, costs associated with asthma are increasing. Strategies including education of patients and physicians, and regular follow-up are required to reduce the economic burden of asthma.
Keywords
AsthmaIndirect CostDirect CostPersistent AsthmaPeak Expiratory Flow Rate
Background
Asthma is an inflammatory disorder of the lungs that affects people of all ages and is a significant source of morbidity and mortality worldwide [
1
,
2
]. Approximately 300 million people in the world currently have asthma and recent decades have shown a concerning increase in the prevalence of this condition in both children and adults (Figure
1
). There has been concerning increase in the prevalence asthma in both children and adults) [
3
]. If the current trends continue, it is estimated that there may be an additional 100 million more asthmatics by 2025 [
4
].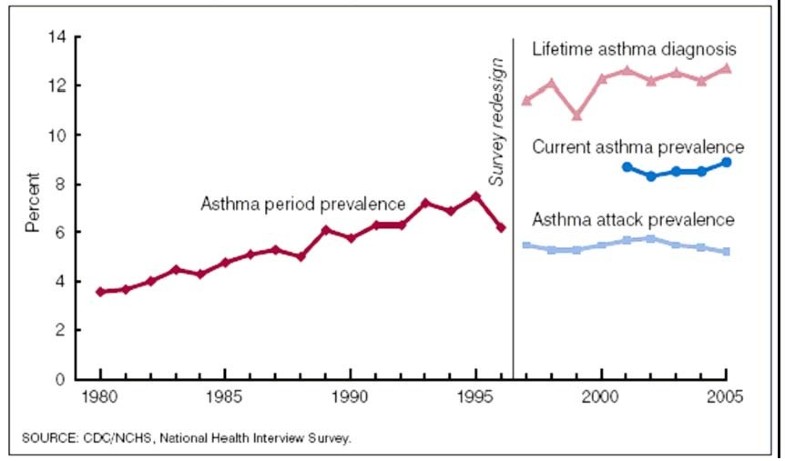 The economic costs associated with asthma are estimated to rank as one of the highest among chronic diseases due to the significant healthcare utilization associated with this condition. Numerous studies have been published evaluating the economic burden of asthma on society and individuals. However, a systematic review of the financial impact of asthma has not yet been performed [5–8]. The goal of this systematic review is to evaluate and synthesize the current literature regarding the economic burden of asthma. The evaluation of the cost of asthma from both a social and economic perspective is necessary for an optimal allocation of resources as well as the betterment of patient care. This study sought to address the following question: "What are the direct, indirect (productivity), and overall costs associated with asthma?"
Methods
Literature Search
A systematic review was conducted to identify English language articles published between 1966 and January 2008 in which the costs of asthma were included. Only studies reported in English (as there was no translator available) and published literature, were included.
The following electronic databases were searched using MEDLINE, EMBASE, Cumulative Index to Nursing and Allied Health Literature (CINAHL), Cochrane Database of Systematic Reviews (CDSR), Health Economic Evaluation Database (OHE-HEED), and Web of Science. Search terms were investigated, including: "asthma", "direct service costs", "cost of illness", "cost- benefit analysis" and "health care costs". Duplicate citations were identified and removed using RefWorks online bibliographic management tool.
Study Selection
The titles and abstracts of all publications identified through the primary literature search were independently reviewed by two investigators. The inclusion and exclusion criteria used for study selection are outlined in Table
1
. The total of four non-English abstracts were retrieved and excluded from the literature search. The full text of all potentially eligible papers determined after the first level of screening was reviewed to ensure that each paper met the inclusion criteria for population and outcomes of interest.
Table 1
Inclusion and Exclusion Criteria
| Inclusion Criteria | Exclusion Criteria |
| --- | --- |
| • English language | • Conference abstracts, case reports, letters, comments, editorials and review papers |
| • Studies that consider the costs of asthma from either the individuals', the health services', and/or society's perspective | • Studies that consider asthma with other comorbidities (such as allergies, COPD, etc) |
| | • Pharmacodynamic or pharmacokinetic studies |
| | • Studies that did not quote costs in the results section |
| | • Animal or in vitro studies |
The types of cost related to illness were divided into direct and indirect costs and were defined as follows: direct costs related to direct health service costs and included alternative treatment/medications, physiotherapy/chiropractic, peak flow meters, primary care consultations, paid help for housekeeping, hospital emergency and outpatient attendance, ambulance and other transportation, and hospital admissions. Indirect costs were those applicable to individual patients, their families, and lost opportunities for work or education. The total cost is an aggregate of both direct and indirect costs. For cost data from the United States (US), costs were converted to 2008 US dollars using the medical care component of the consumer price index from the US Bureau of Labor Statistics.
For cost data from non-US countries, figures were first converted to 2008 currency values using that country's consumer price index. Figures were then converted to 2008 US dollars, using currency exchange rates of Australian dollar (AUD)$1.00 = United States dollar (USD)$0.637, Canadian dollar (CAD) $1.00 = USD$0.806, (Euro currency code) EUR€1.00 = USD$1.281, and Great Britain pound (GBP)£1.00 = USD$1.427. If the year of the cost data was not reported, it was assumed to be the publication year of the article. In all cases, both the original cost figures provided in the publications as well as the equivalent costs in 2008 US dollars were reported.
Data Abstraction
A standardized data abstraction form was used for all publications included in this study. The data abstracted included the following information: manuscript authors, year of publication, study design and duration, patient characteristics (population, age and gender), method of cost calculation, direct costs, productivity (indirect) costs, and total costs. Discrepancies in data abstraction were resolved by consensus.
Methodological Quality Assessment
The quality of the economic studies was assessed using a customized version of the Drummond and Jefferson criteria (Table
2
) [
9
]. Quality criteria were scored as positive, negative, or unclear. Study quality was assessed by one reviewer and confirmed by a second reviewer. Economic evaluations that scored 50% or more of the items positive were defined as studies of high methodological quality, whereas less than 50% was considered low methodological quality. The 50% score was arbitrarily chosen as a mean cutoff to create binary categories.
Table 2
Criteria for evaluating an economic analysis based on Drummond and Jefferson assessment method*
1. Was a well-defined question asked in an answerable form?
2. Was a comprehensive description of the competing alternatives provided?
3. Was there evidence that the program's effectiveness was established?
4. Were all the important and relevant costs & consequences identified?
5. Were costs and consequences measured accurately with appropriate physical units?
6. Were costs and consequences credibly valued?
7. Were costs and consequences adjusted for differential timing?
8. Was an incremental analysis of costs and consequences of alternatives performed?
9. Was a sensitivity analysis performed?
10. Did the presentation and discussion of the study results include all issues of concern to users?
Statistical Analysis
Due to the heterogeneity in cost analysis and reporting across the studies, a quantitative meta-analysis to aggregate cost data could not be performed. Specifically, the resources used to derive direct healthcare and productivity costs varied substantially between the studies, as did the type of currency (USD, GBP, CAD, etc). In the absence of the ability to complete a meta-analysis, we opted to complete a qualitative analysis. There were not sufficient homogeneity in terms of participants, interventions, and the way outcomes were defined and measured, to provide a meaningful summary for considering the meta-analysis.
Discussion
Economic evaluations of asthma have been performed in many countries. But there are only limited population based studies. The studies reported here are difficult to compare because of differences in study designs, definitions of costs, and different time periods. The present systematic review was aimed at identifying the evidence concerning the economic burden of asthma, as there have been no other systematic reviews in the literature that have reviewed this field and it is a highly emergent aspect of health-services management.
Asthma is associated with enormous healthcare expenditures that includes both direct costs, in the form of hospitalizations and medications, and indirect costs, in the form of loss of work which is a combination of directly missed days of work/school that occur during the exacerbation and the loss of future potential earnings associated with both morbidity and mortality.
Indirect costs in some studies constitute a major portion of health related costs, and were identified to be higher than direct costs in six studies [13, 15, 17, 22, 51, 52]. However, not all of the reviewed studies have evaluated the indirect costs associated with asthmatic patients. Therefore, additional studies are necessary to provide a clearer description of these indirect costs and their contribution to the total cost of care.
In contrast, nine cost of illness studies reported that the direct costs of asthma, associated with hospitalization or medications, to be higher than the indirect costs of asthma [11, 14, 18, 29, 42, 47–50]. This may possibly be explained by the costs of hospitalization and medication as the most important cost among direct costs.
The significant contribution of direct healthcare costs due to hospitalization in studies is not surprising given the inherent high costs associated with acute care versus ambulatory care [14, 15, 20, 28, 30, 36, 38, 42, 48–50, 53–57, 65, 72]. Variations in the cost of hospitalization are likely related to the differences in the socioeconomic environment, that is, the difference in the gross national income per capita, or more specifically differences in salary costs in different countries.
The fact that the cost of asthma medications is the largest proportion of direct costs of asthma, is likely explained by the fact that there are a relatively large proportion of patients with asthma of whom only a minority are admitted to hospital. In addition the combination of frequent use, the higher cost of newer asthma drugs [11, 13, 15, 19, 22, 23, 27–29, 35, 37, 43, 46, 47, 52, 56, 60], the smaller proportion in hospital costs and the higher proportion in medication costs seen in some studies could also point to better control of asthma. It also likely reflects a rise in the prevalence of asthma. Furthermore, lower hospital costs can partly be explained by an overall trend towards shorter length of stay in hospital [52].
The predominance of non urgent office and outpatient costs compared to hospitalization and emergency department charges reported in five reviewed studies might be explained by the better access of patients to preventive asthma care or fewer acute exacerbations requiring hospitalization or emergency care visits [33, 37, 39, 40, 43]. Likewise, the predominance of urgent costs might be due to the poor control of the disease in countries where primary care is less well developed, leading to more urgent healthcare utilization.
Hospital type and characteristics were reported to have been associated with differences in charges for asthma hospitalizations. Teaching hospitals were found to have higher charges compared with non-teaching hospitals [44]. This is likely due to higher costs associated with teaching hospitals in terms of funding due to teaching and also the overall higher acuity and greater likelihood of more complex patients being cared for in these hospitals.
The higher costs associated with patients admitted to medical centers and regional hospitals than other patients admitted to district hospitals can be explained partly by the tendency of medical centers and regional hospitals to receive a relatively higher proportion of patients suffering from more serious illnesses than district hospitals [32].
In contrast, two studies in the US found no significant differences in costs and charges between teaching and non-teaching hospitals suggesting that, even with the responsibility of providing education, research, and care for indigent patients, teaching hospitals are competitive in their treatment of asthma [25, 59]. One possible reason contributing to the differences in costs based on hospital ownership might be attributable to a hospital's levels of efficiency and also with the exception of mechanical ventilation of asthma patients; usual care of asthma patients irrespective of location is not associated with a high level of technology [32].
Not surprisingly costs of asthma care were found to increase in the presence of exacerbations and with disease of greater severity [11, 13, 15, 17, 19, 21–23, 27, 30, 31, 35, 36, 41, 46, 51, 53, 54, 58, 62, 66, 67].
The reasons that children with asthma reported higher healthcare costs compared to non-asthma conditions could be related to: higher use of ambulatory care and medications for upper respiratory tract infections or conditions that can act synergistically with asthma (such as respiratory infections, otitis, sinusitis, etc), the use of day-care centers, experiencing more severe asthma on average and higher healthcare use in general, and misclassification of asthma-related encounters as "non-asthma" [24, 25, 30, 40–43, 57, 62, 70, 71]. However, for adults, the increased total costs and increased costs per affected person could be explained by either an increase in the severity of asthma or a decrease in the use of effective healthcare resources. In elderly patients with comorbidities, such as congestive heart failure, which may deteriorate with asthma exacerbations, have been associated with a sharp increase in the costs derived from the disease [36, 56, 68].
Several studies have investigated a variety of potential risk factors associated with a higher risk of direct or indirect costs of asthma including: both old and young ages, female gender, smoking, co-morbid conditions, chronic cough and phlegm, use of peak expiratory flow rate meters, free access to healthcare, low-income status, nonwhite race, asthma symptoms in the past year, longer duration of asthma, controller therapy versus quick therapy, involvement of a pulmonologist in diagnosis or treatment, number of β-agonists and oral corticosteroid prescriptions, and whether inhaled corticosteroids had been prescribed before. The findings that females with asthma spend more on annual asthma care than males might be because of a higher use of acute care facilities due to inadequate medication and poor inhalation skills, or it might be interpreted as females confronted with a chronic illness are more concerned than males and thus, seek medical care more often and have more medicine prescribed.
Three more recent studies have been reviewed in this systematic review; however, their findings didn't contribute further to the previous results [73–75].
Despite the availability of effective preventive therapy, hospital admissions from acute asthma are increasing. This might demonstrate that patients with acute asthma exacerbations continue to be treated inappropriately prior to hospital admission.
Conclusion
In summary, asthma is not only associated with patient specific impairment, but it is also associated with a significant cost to society. The comparison of studies assessing direct and indirect costs of asthma underscores important facts: hospitalization and medications have been found to be the most important cost driver of direct costs, while work/school absenteeism accounted for the greatest percentage of indirect costs. The cost of asthma was found to be strongly correlated with comorbidities, age, severity of disease, and some other factors. It was also found to vary significantly by hospital ownership, location, and teaching status. A large variation of asthma control can partly be explained by variation in guideline adherence to medication use and deficits of patients' management especially as it relates to access to patient education. Particular interventional strategies such as intensive education of patients and physicians, regular follow-up and preplanned homecare are required to improve quality of life as well as decrease the economic burdens of asthma.
Abbreviations
ACT:

Asthma Control Test
AIDS:

Acquired immune deficiency syndrome
AUD:

Australian dollar
CAD:

Canadian dollar
CDSR:

Cochrane Database of Systematic Reviews
CINAHL:

Cumulative Index to Nursing and Allied Health Literature
ED:

Emergency Department
EUR:

The euro currency code
GBP:

Great Britain pound
ICER:

Incremental cost effectiveness ratio
ICU:

Intensive Care Unit
OHE-HEED:

Health Economic Evaluation Database
SD:

Standard Deviation
UK:

United Kingdom
USD:

United States dollar
Authors' Affiliations
(1)
Centre for Clinical Epidemiology & Evaluation (C2E2), UBC, Vancouver, Canada
(2)
Faculty of Pharmaceutical Sciences, UBC, Vancouver, Canada
(3)
British Columbia Centre for Disease Control (BCCDC), Vancouver, Canada
(4)
Department of Medicine, Respiratory Division, UBC, Vancouver, Canada
Copyright
© Bahadori et al; licensee BioMed Central Ltd. 2009
This article is published under license to BioMed Central Ltd. This is an Open Access article distributed under the terms of the Creative Commons Attribution License (http://creativecommons.org/licenses/by/2.0), which permits unrestricted use, distribution, and reproduction in any medium, provided the original work is properly cited.